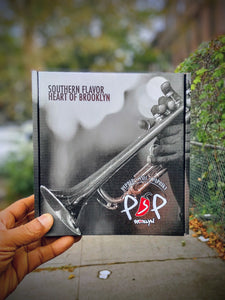 This beautiful box set comes with two different flavor options, Low Heat or Mo Heat. 
Our Low Heat box ($30.00) features our three flavors on the milder end of the spectrum, Everything Green, Indonesian Cayenne and Sweet Thai Chili.  This is a great set for the heat lover that wants the favor, but doesn't want all the smoke!
Our Mo Heat ($32.00) comes with our three hottest flavors, Carolina Red, Coco Mango Mandarin Moruga and our newest flavor, Smoked Whiskey Hibiscus.  This is the perfect set for a co-worker, family member or significant other that wants all the flavor and ALL the fire. 

There are no wrong choices here.  Not sure which one?  Get them both!
Heat Me Up
This is a great concept you came up with! It makes gifting so much easier. You are on the top of my shopping for holiday gifts!!!